Back to results

Featured Partner Venue

Partner Venue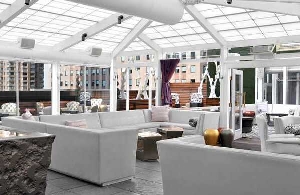 | | | |
| --- | --- | --- |
| Main Image | Business Center | Gym |
| Bar | Bedroom | Lobby |
View on map
Floor plans
Save this venue
Compare venue
Client reviews (0)
Print details
Email venue details

Type of Venue:

hotel

Rate Category:

budget

Agency Tel:

0800 567 0050(FREEPHONE)

Address:

Hilton Garden Inn Times Square 790 Eighth Avenue, USA 10019
Description:
Hilton Garden Inn Times Square New York is a hotel located in New York, New York, United States.

It has 2 conference and meeting rooms and can cater for capacities from 25 delegates to 50 delegates.

Should you wish to make an enquiry at this venue, our agents will be only too happy to help. Simply click 'Make an Enquiry' to get a quote for the Hilton Garden Inn Times Square New York.

Hilton Garden Inn Times Square is a contemporary hotel perfectly located in the heart of bustling Midtown just steps from Broadway theaters, Central Park, Restaurant Row, many museums, and New York City's best shopping. Consistently ranked in the Top 20 hotels in New York City on Trip Advisor's popularity index and recently named to Travelocity's "Top 10 hotels in New York City" list, this modern hotel provides an abundance of complimentary amenities to enhance your stay including complimentary Business Center, Fitness Center & Internet access.

With a modern lobby, personalized service and many onsite features, this New York City hotel offers the perfect base in the heart of Midtown. Hilton Garden Inn Times Square is also within close proximity to Jacob Javits Convention Center, Port Authority Bus Terminal, Penn Station and all major subway lines, offering easy access around the city.

Hilton Garden Inn Times Square has one meeting room onsite, JBird. This mod ...
More
Call us now on 0800 567 0050 to book
Suite Name
Capacity (people)
Dimensions(m)
Theatre
Classrm
Boardrm
Cabaret
Banquet
Ushape
Rec.
H
L
W
A
XVI Rooftop Lounge
-
-
-
-
-
-
50
-
-
-
-
JBird
-
-
25
-
-
-
25
-
-
-
-
| | | |
| --- | --- | --- |
| | Key: H = Height / L = Length / W = Width / A = Area | |
Similar Venues
Venue Finder



Hi, are you interested in holding a meeting or an event at hilton garden inn times square new york. I'm Rebecca and I'm an expert Venue finder. I can help get you a great deal at this venue.
Please call me on +44(0)845 351 9917 or alternatively simply leave your details below and I will contact you asap.


Your Venue
Comparison