Back to results

Featured Partner Venue

Partner Venue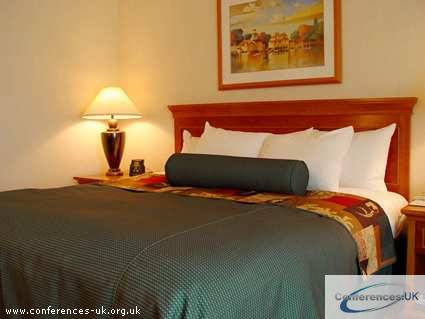 | | | |
| --- | --- | --- |
| Main Image | | |
| | | |
View on map
Floor plans
Save this venue
Compare venue
Client reviews (0)
Print details
Email venue details

Type of Venue:

hotel

Rate Category:

prestige

Agency Tel:

0800 567 0050(FREEPHONE)

Address:

17620 International Blvd, Seattle, Washington, United States 98188-4001 98188-4001
Description:
Hilton Seattle Airport and Conference Center is a hotel located in Seattle, Washington, United States.

It has 48 conference and meeting rooms and can cater for capacities from 10 delegates to 1225 delegates.

Should you wish to make an enquiry at this venue, our agents will be only too happy to help. Simply click 'Make an Enquiry' to get a quote for the Hilton Seattle Airport and Conference Center.

The Hilton Seattle Airport & Conference Center hotel, rated as one of Hilton's Top Performing Hotels for delivering outstanding customer service, is located directly across from the Seattle Tacoma International Airport in Washington. Because we are just a mile west of the I-5 corridor, Downtown Seattle is only minutes away and provides an easy drive to Federal Way, Bellevue, Tacoma, and the South Center Shopping Mall.

This is not a typical airport hotel. Our expansive, full-service Hilton hotel boasts state-of-the-art amenities, such as:

Complimentary shuttle service - 24-hours a day
Heated outdoor pool and whirlpool
New Fitness by Precor® exercise equipment in recently renovated fitness room
Concierge services
Wireless high-speed Internet in public areas with high-speed Internet available in the guestrooms
Enjoy a first class meal at Spencer's for Steaks and Chops - Serving breakfast, lunch and dinner
Call us now on 0800 567 0050 to book
Suite Name
Capacity (people)
Dimensions(m)
Theatre
Classrm
Boardrm
Cabaret
Banquet
Ushape
Rec.
H
L
W
A
Conference Center Lobby
-
-
-
-
-
-
-
-
35
65
2,275.00
Crystal Ballroom A
220
126
40
-
160
48
210
12
4
47
2068
Crystal Ballroom A and B
375
240
-
-
320
-
360
12
44
80
3520
Crystal Ballroom A,B and C
550
300
-
-
400
-
520
12
44
114
5000
Crystal Ballroom B
160
84
40
-
110
40
150
12
44
33
1452
Crystal Ballroom B and C
300
180
-
-
300
-
330
12
44
67
2948
Crystal Ballroom C
165
84
40
-
110
40
160
12
44
34
1496
Crystal Ballroom Foyer
-
-
-
-
-
-
-
12
30
57
1,710.00
Emerald Ballroom
1225
720
-
-
840
-
1200
18
82
135
11000
Emerald Ballroom A
110
48
28
-
80
30
105
18
28
35
980
Emerald Ballroom A and B
200
100
-
-
150
-
200
18
55
35
1925
Emerald Ballroom A, B and C
310
190
-
-
230
-
300
18
83
35
2905
Emerald Ballroom A, B,C and D
600
340
-
-
425
-
575
18
83
67
5561
Emerald Ballroom A, B,C, D and E
570
530
-
-
660
-
840
18
83
99
8217
Emerald Ballroom B
100
48
28
-
70
30
100
18
27
35
945
Emerald Ballroom B and C
200
100
-
-
150
-
280
18
55
35
1925
Emerald Ballroom C
110
47
28
-
80
30
105
18
28
35
980
Emerald Ballroom D
280
170
-
-
220
-
275
18
83
32
8134
Emerald Ballroom D, E and F
370
530
-
-
660
-
340
18
83
98
8134
Emerald Ballroom E
280
170
-
-
220
-
275
18
83
34
2656
Emerald Ballroom F
310
190
-
-
230
-
300
18
83
34
2822
Emerald Ballroom Foyer
-
-
-
-
-
-
400
18
35
230
8,050.00
Mercer A
90
45
22
-
60
27
85
12
30
27
810
Mercer A and B
165
72
40
-
120
45
160
12
59
27
1593
Mercer B
85
45
22
-
55
27
80
12
29
27
783
Orcas A
55
24
22
-
40
21
50
12
21
23
483
Orcas A and B
100
60
34
-
70
36
100
12
42
23
966
Orcas B
55
24
22
-
40
21
50
12
27
23
621
San Juan
65
24
16
-
50
18
65
12
27
23
621
Whidbey
30
-
22
-
-
-
30
12
11
27
300
Board Room
-
-
10
-
-
-
-
8
22
14
308
Columbia A
75
30
22
-
50
24
70
9
22
29
638
Columbia A and B
140
60
48
-
100
48
140
8
22
29
1320
Columbia B
75
30
22
-
50
24
70
9
22
29
638
Elliott A
75
30
22
-
50
24
70
8
22
29
638
Elliott A and B
140
60
48
-
100
48
140
8
22
60
1320
Elliott B
75
30
22
-
50
24
70
8
22
29
638
Harbor Room
30
18
16
-
20
15
40
8
22
18
396
Peninsula A
75
30
22
-
50
24
70
8
22
29
638
Peninsula A and B
140
60
48
-
100
48
140
8
22
60
1320
Peninsula B
75
30
22
-
50
24
70
8
22
29
638
Summit Ballroom
500
300
-
-
380
-
500
10
44
106
4664
Summit Ballroom Foyer
-
-
-
-
-
-
400
10
44
106
4000
Summit Ballroom- Alpine
190
84
34
-
140
42
180
10
44
39
1716
Summit Ballroom- Glacier
130
63
34
-
100
39
120
10
44
28
1232
Summit Ballroom- Glacier and Horizon
320
180
52
-
240
57
300
10
44
66
2904
Summit Ballroom- Horizon
180
84
34
-
130
42
170
10
44
37
1628
Summit Ballroom- Horizon and Alpine
370
216
64
-
270
69
350
10
44
76
3344
| | | |
| --- | --- | --- |
| | Key: H = Height / L = Length / W = Width / A = Area | |
Similar Venues
Hilton Seattle Airport and Conference Center
hotel - prestige Rate Category
The Hilton Seattle Airport & Conference Center hotel, rated as one of Hilton's Top Performing Hotels...
396 Bedrooms - 48 Meeting Rooms - Max Capacity 1225
The Fairmont Olympic Hotel Seattle
hotel - prestige Rate Category
As the Pacific Northwest's only AAA Five Diamond hotel, a designation it has held since 1984, The Fa...
450 Bedrooms - 15 Meeting Rooms - Max Capacity 750
Venue Finder



Hi, are you interested in holding a meeting or an event at hilton seattle airport and conference center. I'm Jayne and I'm an expert Venue finder. I can help get you a great deal at this venue.
Please call me on +44(0)845 351 9917 or alternatively simply leave your details below and I will contact you asap.


Your Venue
Comparison