Back to results

Featured Partner Venue

Partner Venue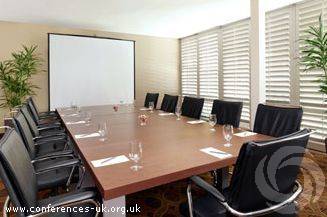 | | | |
| --- | --- | --- |
| Main Image | | |
| | | |
View on map
Floor plans
Save this venue
Compare venue
Client reviews (0)
Print details
Email venue details

Type of Venue:

hotel

Rate Category:

premium

Agency Tel:

0800 567 0050(FREEPHONE)

Address:

5990 Stoneridge Mall Road Pleasanton, California 94588 United States 94588
Description:
Sheraton Pleasanton Hotel US is a hotel located in California, Alameda, United States.

It has 3 conference and meeting rooms and can cater for capacities from 20 delegates to 280 delegates.

Should you wish to make an enquiry at this venue, our agents will be only too happy to help. Simply click 'Make an Enquiry' to get a quote for the Sheraton Pleasanton Hotel US.

There is no better place to experience the best of northern California than at the Sheraton Pleasanton Hotel in the beautiful East Bay Hills. Situated between Silicon Valley, San Francisco, and the Napa Valley, they'll make your stay comfortable and enjoyable.

They're just minutes from more than 20 wineries, 10+ golf courses, hiking trails, and adjacent to Stoneridge Mall with more than 150 upscale stores and restaurants. In Pleasanton, enjoying local music, outdoor festivals, hiking, or sports is a way of life. At events like the Scottish Games, Good Guys Rod & Custom Shows, and Alameda County Fair, you will feel the passion and pride of northern California.

If you're visiting on business, this hotel is conveniently located minutes from the Hacienda, Koll Center, Bishop Ranch Business Parks and companies such as Chevron, Oracle, A-D-P, Nissan, E-M-C and AT&T. They are next door to Safeway's corporate headquarters and within walking distance to Pepsi, Ericsson, Squa ...
More
Call us now on 0800 567 0050 to book
Suite Name
Capacity (people)
Dimensions(m)
Theatre
Classrm
Boardrm
Cabaret
Banquet
Ushape
Rec.
H
L
W
A
Salon
140
80
-
-
70
60
100
-
-
-
-
Boardroom
40
20
-
-
30
20
30
-
-
-
-
Upper Lobby
-
-
-
-
-
-
280
-
-
-
-
| | | |
| --- | --- | --- |
| | Key: H = Height / L = Length / W = Width / A = Area | |
Similar Venues
Venue Finder



Hi, are you interested in holding a meeting or an event at sheraton pleasanton hotel us. I'm Lisa and I'm an expert Venue finder. I can help get you a great deal at this venue.
Please call me on +44(0)845 351 9917 or alternatively simply leave your details below and I will contact you asap.


Your Venue
Comparison